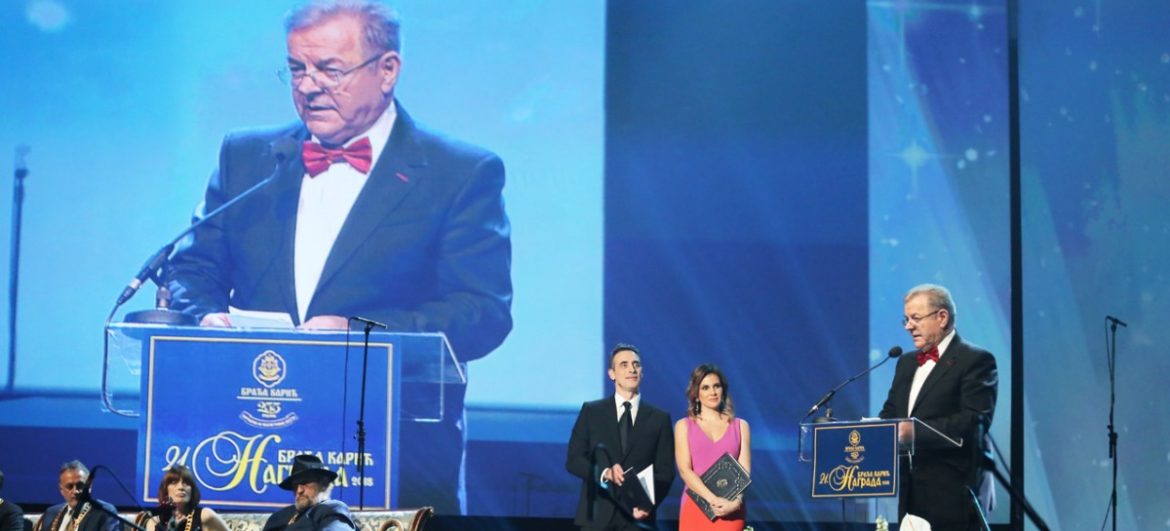 Braca Karic awards in 2018
In the presence of numerous public figures, representatives of denominations and diplomats, with a solemn academy in the great hall of the Sava Center, on November 22, 2018, the Karić family marked "255 years of entrepreneurship" and awarded the "Karić Brothers" Awards for the twenty-first time.
The history of the Karić family was shown through documentaries, and special emphasis was placed on the importance of the family as the basic cell of society. The wish was to convey the message that the family in Serbia should have its own day, family day, and that our generations know who their grandfather, grandmother, who are great-grandfathers, great-grandmothers, who are their ancestors. Let us all together confirm that:
"Family is really the safest place."
The films show a period of two and a half centuries of entrepreneurship of the Karić family. According to preserved church sources and family traditions, the family has been engaged in entrepreneurial activities since 1763. They were teachers, priests, officers, scientists, bakers, tinsmiths, tanners, merchants …Today, BK Group is represented on all continents and among the most important companies in the world. This year in May at the largest economic forum in Davos, a member of the BK Group, Dana Holdings, was included in the very top of the top 100 largest companies in the world, side by side with Apple, Samsung, TIME, Zara, Amazaon, Alibaba, IKEA, Instagram, Netflix, Roshe etc…
Within the ceremonial academy, those present could enjoy the rich and carefully prepared stage and artistic performances of eminent local artists: Youth Philharmonic "Borislav Pašćan" under the baton of conductor George Pavlovic, AKUD choir "Ivo Lola Ribar" under the baton of conductor Milovan Pancic, Bora Dugic, Nevena Bozovic, Una Sage Serbike …
In the second part of the program, the "Brothers Karić" Awards were solemnly awarded for the first time to prominent personalities for the greatest achievements in the following areas:
– for culture and art, the laureate is Hadzi Petar Bozovic
– for humanitarian activities the laureate is Arno Gujon
– for scientific and research work, the laureate is Dr. Gordana Vunjak Novakovic
– for sport, the laureate is Dragan Stojkovic Piksi
-a special sports award for outstanding results achieved at the World Championships in Japan, Serbian women's volleyball team
The awards were presented by Dragomir J. Karic and Olivera Karic Nedeljkovic.